Join the City of Hayward Earth Month Challenge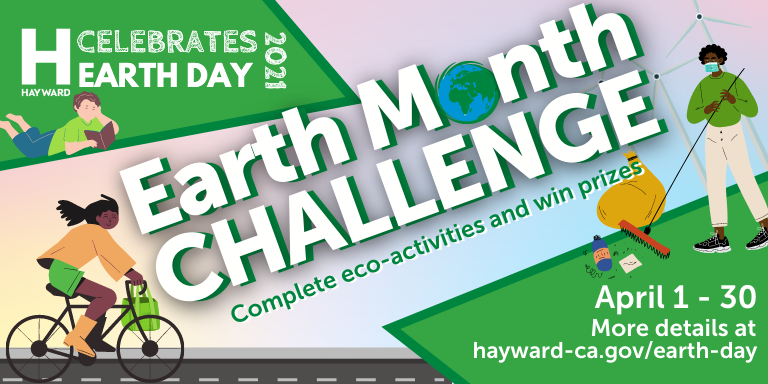 In lieu of the City of Hayward's annual Citywide Clean-up and Community Fair, the City invites residents to celebrate Earth Day for the whole month of April at home by joining our first-ever Earth Month Challenge.
The Challenge is designed to encourage and provide information and strategies for residents to reduce their carbon footprint through a checklist of activities focused on waste reduction, beautification, energy, transportation, water and activism.  For each activity that residents complete or pledge to complete during the month of April, they will earn points.  To be eligible to receive a prize, participants must complete enough activities to earn at least six points.
Residents who participate will receive a voucher for either food or a drink at a local Hayward establishment and will be entered into a raffle to win one of three grand prize packages, which include a $100 pre-paid Visa gift card and a zero-waste kit valued at $100.
Activities include composting kitchen scraps; upgrading electricity service to a 100-percent renewable supply through East Bay Community Energy; biking or walking to a destination instead of using a car; sharing the Earth Month Challenge with a friend; and picking up litter in your neighborhood.  For those interested in picking up litter, the City's Keep Hayward Clean & Green Task Force will facilitate contactless drop off of litter pick-up supplies to your door, including gloves and grabbers.  Go online here to learn more and request a supply drop-off.
The Earth Month Challenge registration form and more details can be found on the Challenge webpage here on the City of Hayward website.  If you have questions, please contact City of Hayward Sustainability Specialist Nicole Grucky at Nicole.grucky@hayward-ca.gov.