Light Up the Season 2020 with hope and unity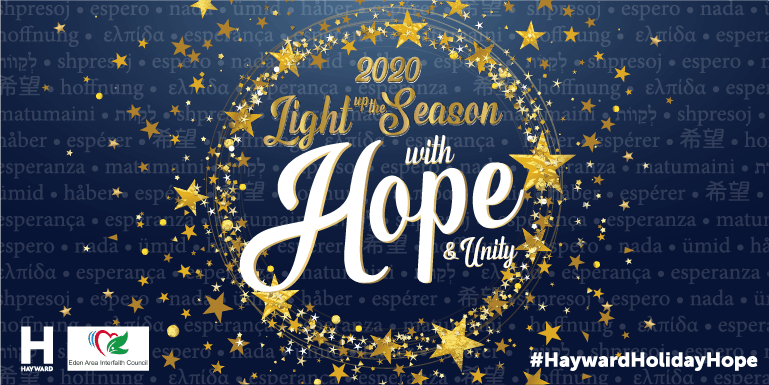 The annual Light Up the Season event has gone virtual this year with a special invitation to all of Hayward to enjoy and share holiday light displays and depictions of our diverse community's winter-time traditions.
On behalf of the Hayward City Council, Mayor Barbara Halliday kicked off the event on Friday evening with a video recorded Light Up the Season address.  As Mayor Halliday explained, the message of Light Up the Season 2020 is one of "hope" and "unity" as we enter together this darkest time of year in a year of such extraordinary challenges.
With City Hall, City Hall Plaza and our Downtown Library lit up accordingly, the Council invites you to bring even more light to the community by sharing similarly themed displays as well as your own traditions of the season.
You can do this by visiting the City webpage for Light Up the Season 2020.  There, you will be able to share pictures of your own light displays with fellow residents—and see those that others have shared.  You also will find coloring pages that you can print and post using the hashtag #HaywardHolidayHope.
Light Up the Season 2020 is a partnership of the City of Hayward and the Eden Area Interfaith Council.