Final leg of Mission Boulevard corridor enhancements coming soon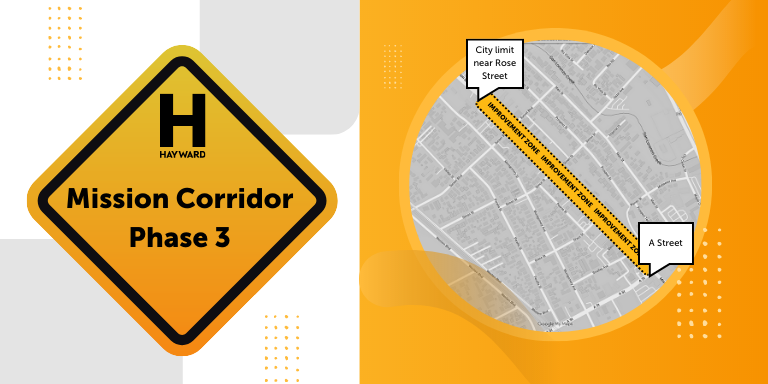 Construction is scheduled to begin later this month on the third and final phase of the Mission Boulevard Corridor Improvement Project—which will run from A Street to the City limit near Rose Street.
Phase 3 Mission Boulevard improvements will generally consist of:
Underground of existing overhead utility wires;
Construction of new sidewalks and curb ramps;
Installation of LED streetlights; Construction of bike lanes along the sidewalk;
Improvements to crosswalks with bulb-outs and flashing beacons;
Modification of existing traffic signals and installation of a new traffic signal at the intersection of Sunset Boulevard;
Rehabilitation of pavement; Planting of new trees; and
Installation of new gateway entry elements at Rose Street.
The Hayward Public Works Department and project contractor DeSliva Gates Construction are making every effort to minimize inconveniences due to construction work.  We appreciate the patience of the Hayward community as we complete this last phase of Mission Boulevard corridor enhancements.
For more information, please visit the project page on the City of Hayward website.  Questions and feedback can be directed to project manager Dave Hung at (510) 583-4752 or dave.hung@hayward-ca.gov.